Progress Reports & Homework Suggestions
Progress Code On Attendance Sheets
At LDSA, our staff are constantly assessing each student and their movement toward the mastering of 10 skills for their level.
Earn a Ribbon
Once a student has mastered all ten skills, they will receive a ribbon, pin, and move on to the next level. You can now view your child's progress through the parent portal. When you logon go to evaluation, then click view tree where you can see what skills were mastered and what still needs improvement to move to the next level. A parent can also submit a Parent/Teacher Communication Form requesting an update.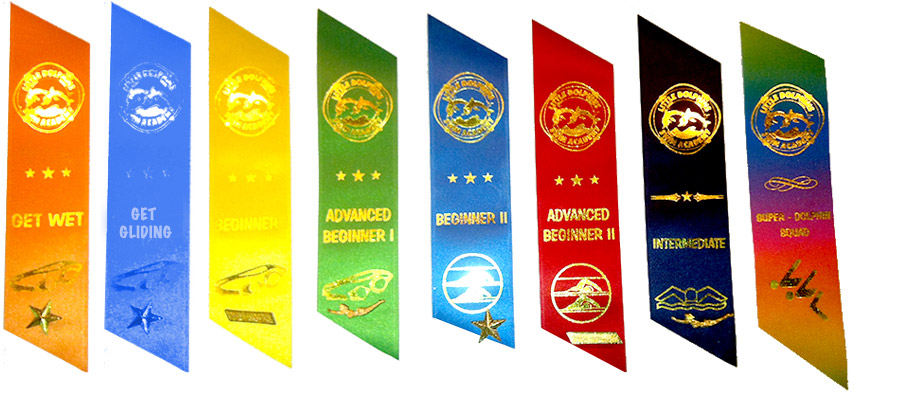 Homework
At the Beginning Levels of our Academy (Baby & Me, Toddler & Me, Goldfish, Get Wet, Beginner I and Beginner II) the first step for the child to achieve is "AIR CONTROL." An excellent at homework skill to develop is "Air Control" that might be thought of as a "balloon face." The mouth is sealed close, and run water over their head in a shower or pour over in a cup. Eventually, they can learn to release the air inside the balloon and generate bubbles. But these come after regular practice of submerging their balloon face.
Progress
Every child progresses at their own unique pace. There are about 10 skills to achieve at each level. The average student may progress at mastering one skill every five classes. One skill achievement every three-four classes is an excellent pace of progression.
A Parents Best Practice
Allow your child to enjoy their experience of independence in their swim class. Questions to supervisors are welcome, and there's a Parent/Teacher Communication Form available on our website if you note something vital that hasn't been addressed. But any child will achieve most quickly when they have "internal motivation" rather than "external motivation" to do so. Mom or Dad's pushing will only be temporary. Let your child know that you are excited about their progress, and they will tend to put more effort in to see your smile.