Staff & Senior Swim Instructors
Coach Chuck Warner – C

hief Executive Officer, Owner

of Little Dolphins Swim Academy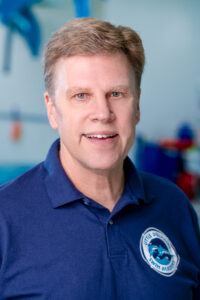 After spending thirteen years as head coach of the varsity program at Rutgers University, three-time USA National Team, Coach Chuck Warner, created the Little Dolphins Swim Academy. Warner brings a perspective that comes from a lifetime of teaching swimming to people of all ages, as well as developing world-class swimmers and winning national team championships. Twenty-five years ago he founded the "Arete Swim Camp" that has taught over 4000 swimmers how to improve at the highest level of the sport.
Coach Warner is formerly the President of the American Swimming Coaches Association (the largest swim coaching organization in the world with more than 10,000 members and Treasurer and Executive Committee Member of the Board of Directors for the International Swimming Hall of Fame. He has authored three highly acclaimed books on swimming: "Four Champions, One Gold Medal,"  "…And Then They Won Gold: Stepping Stones to Swimming Excellence" and "Eddie Reese: Coaching Swimming, Teaching Life."
In late spring of 2020 Coach Warner founded the "New Jersey Swim Safety Alliance" that was instrumental in the safe re-opening of indoor pools amidst Covid19 in New Jersey. NJSSA has now become a 501C 3 non-profit and Chuck serves voluntarily as Chairman of the Board.
Coach Warner manage the WWAE/LDSA property, leads the program, hires and trains staff, supervises, and occasionally gets to teach!
Coach Lisa Rivera – Chief Operating Officer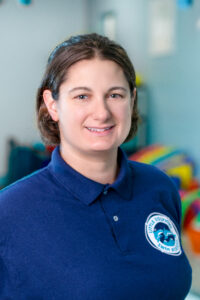 Lisa is the Chief Operating Officer and has been with Little Dolphins Swim Academy since October 2010. Lisa graduated from Kean University with a degree in Recreation Administration and a Teaching Certification in Health and Physical Education K-12. Lisa has been in the aquatics industry since the age of six. Coach Rivera is a Master's swimmer who has competed in numerous open swims and multiple Tough Mudder races. She also has experience coaching swim teams. During her 20 years of experience as an instructor she has excelled at teaching babies, toddlers, school age children through adults. Lisa is a mother of three sparkling young children, two boys, and one little girl.
Coach Kimberly Romanowski – General Manager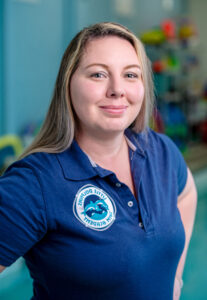 Kimberly is the General Manager and has been with the Little Dolphins Swim Academy since January 2020. She graduated from Pasco Hernando Community College with an associate's degree in General Arts and is a Veteran of the United States Navy as a Mass Communication Specialist. Coach Romanowski has been in the aquatics industry since the age of three. She was a former competitive swimmer with ten years of experience teaching children how to swim, 12 years of experience in customer service, and nine years of experience at the management level.
Coach Brian Stock – Associate Aquatics Director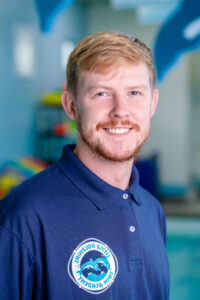 Brian is the Assistant Aquatics Director and has been with the Little Dolphins Swim Academy since September 2021. He graduated from Moravian College with a bachelor's degree in English and from Fairleigh Dickinson University with a master's degree in sports management. Coach Stock has five years of experience in administering swim instruction and two years of experience coaching track and field at the NCAA Division I level.
Coach Jeff Donohou – Associate Manager
Coach Jeff is the Associate Manager and has been with the Little Dolphins Swim Academy since September 2022. He earned his National Association of Sports Medicine certificate in 2018. He began as a Personal Trainer and took his passion for children and knowledge of swimming with him to Little Dolphins to expand and refine his expertise for coaching and fitness.
Coach Annie Warner
Annie has been with Little Dolphin Swim Academy since they opened their doors and has enjoyed serving in various roles. She graduated from the University of Florida with a bachelor's degree in International Studies and minors in Dance and International Development. Annie was previously a competitive swimmer and taught swim lessons in Florida and New Jersey for the last eight years. She has also been a coach at the Arête Swim Camp and Super Skills Clinics run by the Director of LDSA, Chuck Warner. In addition to teaching swimming, Annie has taught English, environmental science, dance, history, and art to students K-12 in both the US and Spain.